Pallet racks are the most popular type of storage systems for warehouse storage. At Conveyor & Storage Solutions, we understand that sometimes a business cannot wait 4-6 weeks for new rack materials and installation, so we offer a quick and cost-effective solution with used and refurbished pallet racks.
C&SS has a robust inventory of new and used pallet racks, always in good condition, readily available and with a guarantee of time and significant financial savings, 20-50% of the cost of new materials. When buying used racks, clients can choose between multiple options: "as is" condition or refurbished.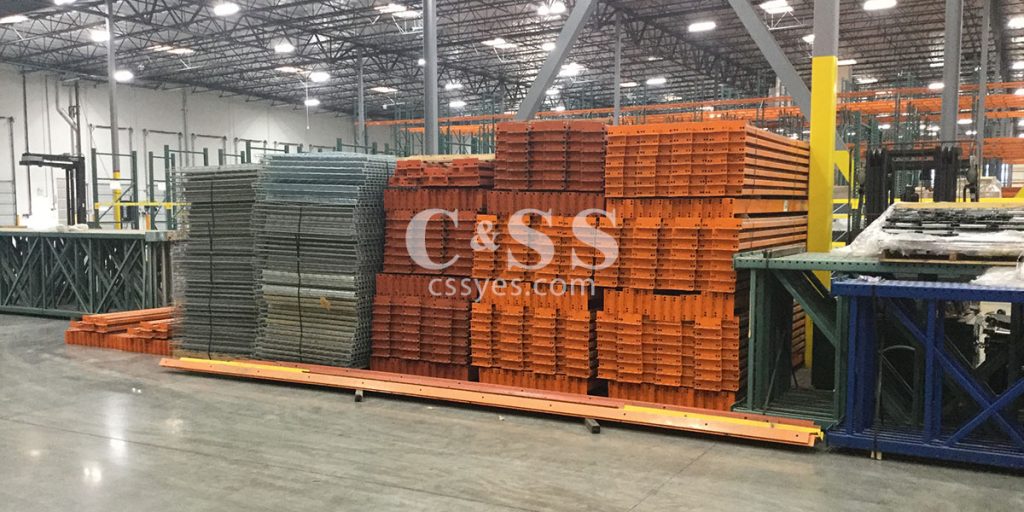 Pallet racks sold "as is" are the most cost-effective solution for a quick and easy storage system. Some of the older racks can come with dirt and rust, fading paint, and stickers on the face of beams, however in most cases our used pallet racks come in very good condition with little wear and tear. Our refurbished pallet racks are also another alternative with the additional benefit of a quicker turnaround time: C&SS carries many sized industrial racks not available elsewhere and can be installed in as little as 24 hours. For your convenience, our experienced sales team can email you pictures of our used pallet racks along with a proposal before you make a decision to purchase. C&SS offers complete reconditioning, including cleaning, powder coating and repainting our pallet racks, at an additional fee.
We offer many different kinds and sizes of pallet racks to implement a storage system to meet your business' needs. Whether heavy duty or light duty, our pallet racks are designed to store pallets, boxes, cartons, archives, and almost any type of raw goods and finished products. Our storage systems are designed, pre-engineered, and installed by our OSHA trained installation team. When you are ready to evaluate your existing storage system with your current needs, feel free to contact us with any questions and how we can improve your warehouse efficiency and take full advantage of your current storage space.