Based in Southern California, Conveyor & Storage Solutions, Inc. has installed cantilever systems all throughout the Golden Coast, from San Diego, Los Angeles, and Ventura to Santa Clara, Alameda, and San Francisco. We have also designed and built cantilever racks across the Unites States in over 15 different states. Wherever your business is located, let our experienced sales and material handling team install the best system with the proper tools and right equipment.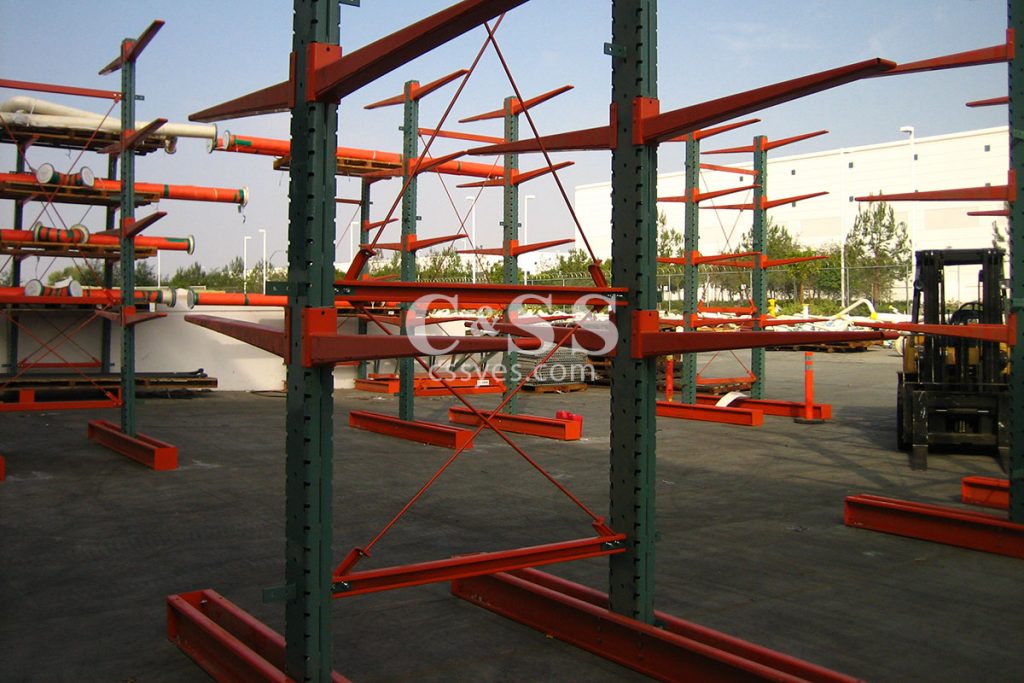 C&SS offers a wide range of cantilever racking from light storage to heavy duty solutions. Our cantilever racks are ideal for storing long bulky items like lumber, carpet rolls, and tubing, and are available as single or doubled sided units. For heavy duty storage, our business recommends structural cantilever racking produced from varying sizes of structural I-Beams. These racks are custom ordered and available in a variety sizes and capacities designed to store your warehouse products. C&SS offers our medium duty cantilever racks which can withstand up to 2200 lbs of storage materials. The cantilever columns are available in 8', 10', and 12' heights and 24", 36", and 48" arm sizes adjustable at 3" increments. Incremental sections can be added to the starter unit by purchasing additional base/columns, a brace set, and arms. For lighter applications, we also offer our line of light duty cantilever racks, usually available to ship within 4-5 days. At 79" tall, our medium duty racks have angled arms (available in 12", 18", or 24" sizes) and welded end-stops to provide secure storage of extra-long stock. These units can be assembled in less than 10 minutes, are adjustable at 1-1/2" increments, and can safely store product capacities between 600-1000 lbs, depending on arm length. C&SS stocks cantilever racks in multiple locations throughout the US. Examples of cantilever racks our team has installed are available on our website.
After customizing your cantilever rack desired weight capacity, column height, arm length and angle, and any additional items, C&SS can provides turnkey solutions for cantilever installation including: application engineering, warehouse space planning, design build, and building permits to deliver the best system to meet your business' storage needs.