This product allows companies to gain the necessary warehouse space without opting for new building construction or warehouse leasing. Purchasing our pre-owned mezzanine work platform creates new area for manufacturing, storage, and offices if needed.
Our philosophy focuses on reducing industrial foot print and warehouse operational cost to our customers. Please see below some of the specifications and click on the PDF file on the right side to view a top view drawing of this mezzanine labeled (D).
Manufactured by Industrial Structures Mezzanine
15′ Deep x 30′ Wide
Top of Deck Approx. @ 108″
14 Step, 36″ Wide Mezzanine Stairway
Tapered Columns
Wood Over B-Deck Mezzanine Top Level
---
Mezzanine Space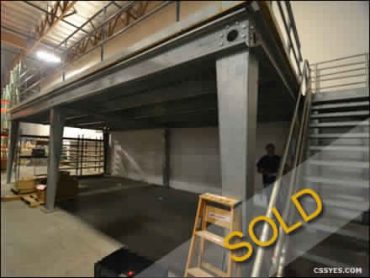 Storage space can be hard to find in business spaces so many businesses turn to the use of industrial mezzanines.
The mezzanine is often used in industrial environment and similar spaces for storage of materials or work areas. The high ceiling of the warehouse is ideal for a mezzanine, and offices can be put either below or above it.
---
Clearspan Mezzanine Area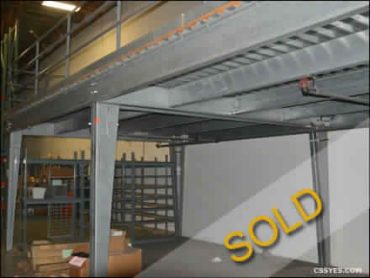 Clear span mezzanine area can also be easily relocated to another facility if your storage requirements change. Likewise, this used mezzanine for sale can be relocated again to suit your particular needs. Our sales managers can assist with the details of your project to assure this is a good fit. We never assume that one size fits all.
---
Mezzanine Loading Gate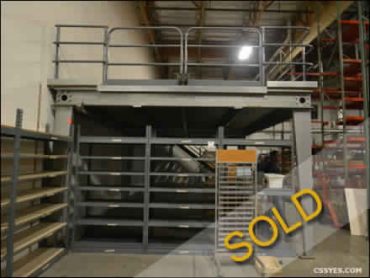 This is the area reserved for top floor mezzanine loading and unloading of materials.
This mezzanine gates and rails will assist your facility in meeting protection standards for raised area openings. They easily provide access to load/unload materials at the mezzanine level while the rails provide a safe environment for employees.
---
Mezzanine Tapered Columns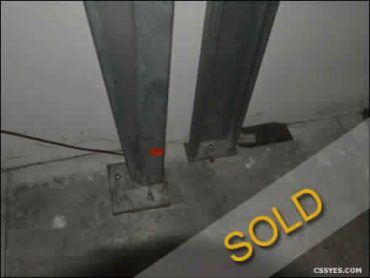 Tapered columns support the joists and struts of this mezzanine.
Columns must be properly braced at the mezzanine level by the mezzanine system and anchored to the floor by experienced and trained material handling installers.
---
14 Step Mezzanine Access Stairway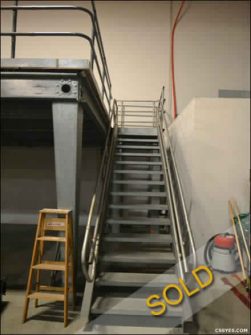 36″ tread with 43″ total width. 178″ long with total of 14 steps.
This employee access industrial stairs has non-slip treads that are 36″ wide. Top and bottom anchor brackets are included. Railing is bolted in place. This stairway meets OSHA requirements and has a total width of 43″. Total lenght of the stair is 14′-8″.
---
Wood Over B-Deck Mezzanine Top Level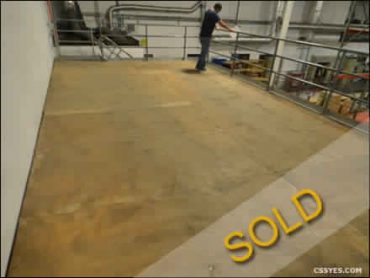 Brand new tongue and groove wood over B-Deck will be installed on this system creating a flat and smooth surface.
We provide an option to replace the mezzanine decking with brand new tongue and groove wood decking which will add value to your long-term use of this mezzanine floor.
---
Full Service Contractor & Distributor of Material Handling Equipment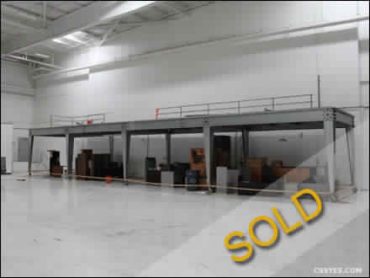 12 Feet wide x 64′ Long Platform Mezzanine.
This product was recently sold. This used mezzanine was manufactured by Structural System Group. It is 12′ wide by 64′ long, and is only 5 years old. The mezzanine floor is designed to 125 PSF, and has top of deck height of 114″, and clearance height of 96″.
It includes stairs with 36″ tread width, along with and hand side rails. The top of stair landing is 36″ by 36″. This rolled formed steel is galvanized, has 12″x12″ seismic column feet. It currently has casters at the base of each column, making the unit mobile, but can be custom retrofitted to be stationary and anchored to the warehouse floor.
---
Industrial Structures Mezzanine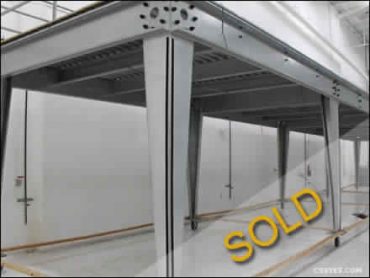 Industrial Structures mezzanine's meet all seismic zone and impact resistance requirements.
We provide a full line of services including warehouse space planning, application engineering, project management, equipment rentals, installation, equipment rentals, trucking to transport the materials to your location, and building permit submittal services.
Freestanding mezzanines are supported by framing members connected to the primary floor by columns alone, creating optimal usable space above and below. Industrial Structures Rigid Frame maintains a right angle between the column and beam, therefore minimizing the effect of impact loads, seismic loads, and accidental overloads, by transferring excessive loads to beams and other columns in a multispan environment.
---
Galvanized Finish and 8 Bolt Connection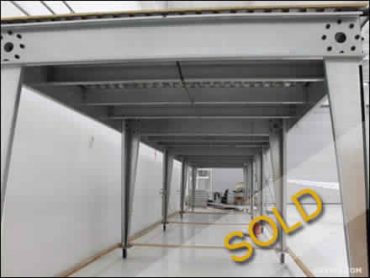 8 bolt connection from frame to columns.
Galvanized finish resists scratches and corrosion. Designed to withstand harsh industrial atmospheres, its light reflective properties help reduce the energy bill. IS uses lightweight, high tensile steel in coil form, which provides great strength with less materials. It currently has casters at the base of each column, making the unit mobile, but can be custom retrofitted to be stationary and anchored to the warehouse floor.
---
Stairs, Gates, and Handrails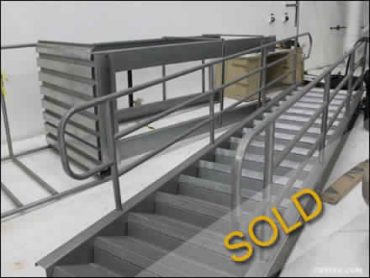 Warehouse space planning enable us to perfect fit pre-owned material handling systems to your existing warehouse.
We offer many services, including asset recovery. Call our office to see how we can assist you with any of your projects.