Tech Data Corporation recently completed a facility assessment project. The new space planning required them to make adjustments to their storage rack layout, modifications to their order processing, and corrections near the shipping and receiving area. When the project finished, they were left with excess warehouse storage equipment. The excess components were being staged outside in the parking lot, and were taking up approx 20,000 sq feet.
Conveyor & Storage Solutions assisted Tech Data Corporation in recovering revenue from their leftover fixes assets, which included components from the pallet rack system and the conveyor system. We provide a full line of services, including flexible compensation structures for asset recovery.
Here is a list of the materials that we recently acquired:
Pallet Rack Materials
Industrial Wiredecks
Gravity Conveyor 27″ BF x 120″ long
Powered Conveyor 27″ BF x 120″ long
Conveyor Support Stands
Plastic Pallets, 40″ wide x 48″ long
Pushback Pallet Rack Beams 94″ long x 4″ high
Pushback Pallet Rack, 3 Deep Rails
Pushback Pallet Rack, High Carts
Pushback Pallet Rack, Low Carts
Pushback Pallet Rack, Uprights 52″ x 22′
Pushback Pallet Rack, Uprights 36″ x 22′
Span Trac 65.5″ long x 16″ wide, 3″cc
Span Trac 71.5″ long x 10″ wide, 3″cc
Span Trac 152.5″ long x 10″ wide, 3″cc
Guardrail Posts: 24″ h
Guardrail 10′ long
Pallet Flow Rails 77.25″ long
16 Person Wardrobe Lockers
18 Person Box Lockers
---
Teardrop Pallet Rack, Vertical Uprights and Frames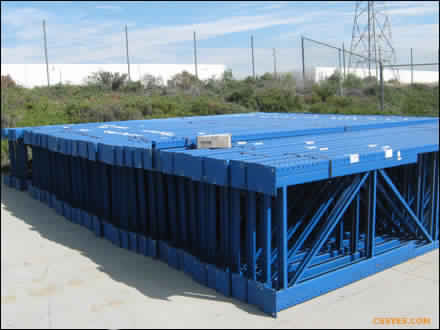 Material handling uprights that are properly and safely packaged for transportation.
We are located in Southern California, and provide asset recovery services in San Diego, Los Angeles, San Bernardino, and Imperial, Riverside, and Orange Counties.
Pallet Rack Uprights 42″ deep x 22′ high
Pallet Rack Uprights 36″ deep x 93″ high
Pallet Rack Uprights 42″ deep x 26′ high
---
Teardrop Pallet Rack, Horizontal Load Beams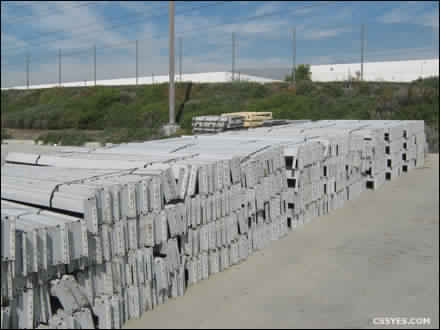 Reusable pallet rack beams.
Some of the costs associated with a "clean up" project include labor, equipment rentals such as forklifts and scissor lifts, dump fees for trash containers, and trucking for moving materials off site.
Pallet Rack Beams 96″ long x 4″ high
Pallet Rack Beams 96″ long x 3.5″ high
Pallet Rack Beams 93″ long x 3.5″ high
---
Pallet Support Bars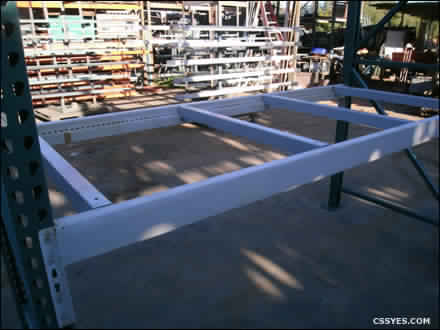 Pallet support bars are 38″ long in order to fit a 42″ deep frame.
The option of using pallet supports bars instead of wire decks can be more cost effective because they only cost $3.50 each. We recommend 4 pallet supports per level on a 96″ long beam. Compare at $30 per level using wire decks for the same system. Using pallet support bars cuts your cost in half!
Pallet Rack Beams 96″ long x 4″ high
Support Bars 38″ long
---
Pallet Support Bar for Slotted Beams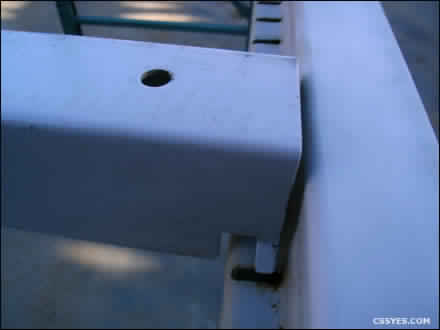 Perfect alignment metal tab inside slotted beam makes a perfect fit.
Formed metal support bars lock in place with metal tab fitting inside slotted beam. This product may be a better option if your pallets overhang.
---
Slotted Step Beam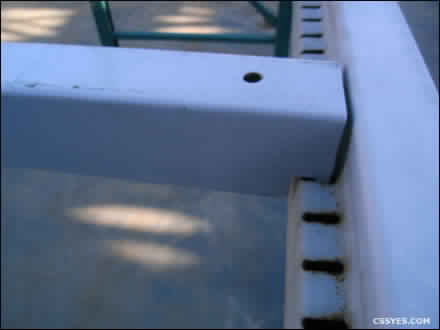 Pallet support bar secured in place with slotted beam.
---
Wiremesh Screen, Wire Decks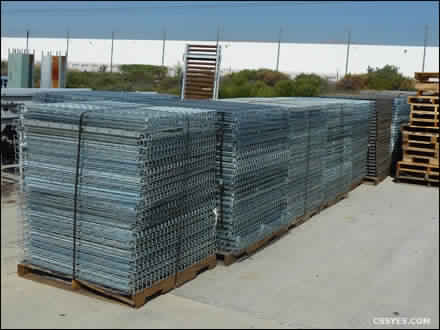 Pre-owned wiremesh decks in excellent condition.
Wiremesh Decks 42″ deep x 46″ wide, 3 channel, step
Wiremesh Decks 36″ deep x 46″ wide, 3 channel, step
Wiremesh Deck Dividers 46″ x 24″
---
Recycling Warehouse Storage Equipment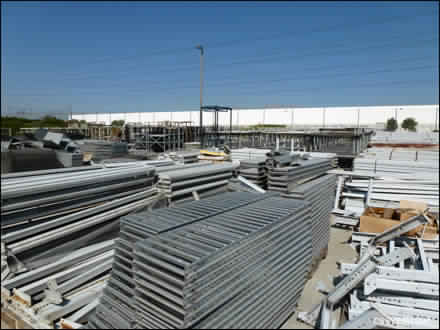 Tech Data outdoor yard and warehouse fixed assets.
Recycling steel is an option for recovering additional revenue for damaged and unwanted steel and metal materials. C&SS can provide the labor to handle these materials, properly place them into containers, and coordinate the logistics with third party recycling companies.
---
Pallet Flow Rails, Carton Flow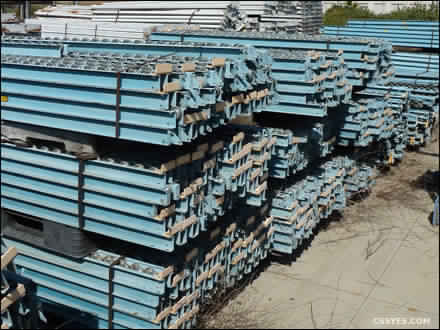 Carton flow racks used in a manufacturing storage application.
We have enough pre-owned flow rails in stock to design a custom system for your specific warehouse needs.
---
Pallet Flow Rails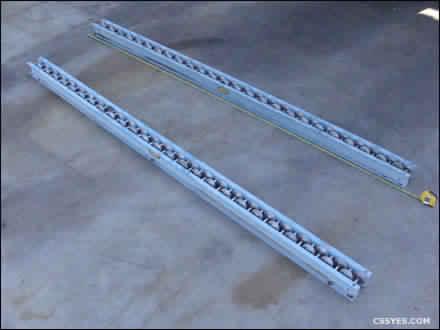 The rails measure 77.25″ long.
---
Pallet Flow Rail Detail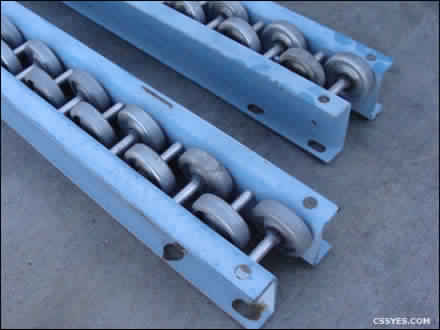 Skatewheel in good working conditions.
---
Recycled Workbenches and Work Stations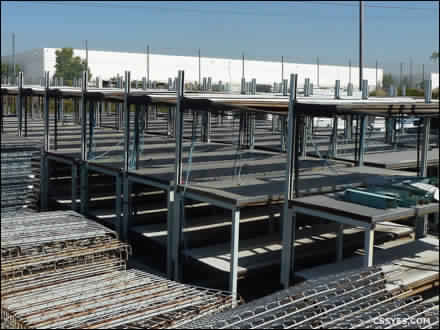 We recycle steel workbenches in California.
In many cases, materials left outside unprotected, will deteriorate from the elements, and need to be placed into trash dumpsters. Some items can be reconditioned, then reused. We carry a long list of second hand material handling items such as recycled workbenches, used storage mezzanines, and used pallet racks.
---
Forklift Man Cage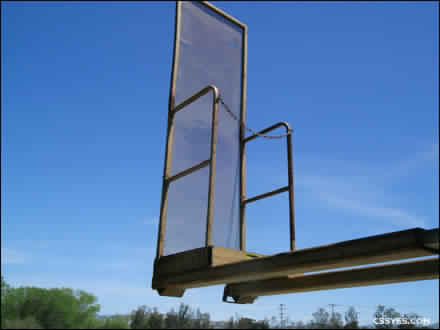 Forklift man cage is also called mounted work platform.
The forklift mounted work platform is ideal for overhead usage; it increases safety and productivity during the performance of maintenance work.
---
Guard Rails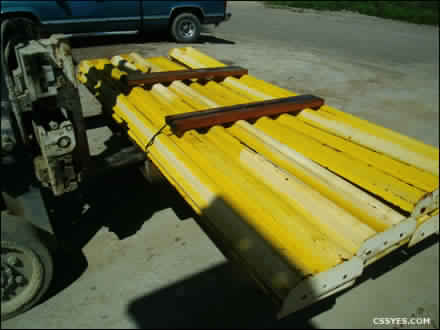 Guard rails are designed to protect specific walking areas, warehouse assets, and storage racks.
Used equipment is sold as is, but refurbishing is available upon request: steel grade warehouse equipment, if in good condition, can be reused many times in order to lower industrial footprint waste.
115″ long x 12″ high, used but in fair condition
Guard Rail Posts: 18″ high x 5″ x 5″
---
Guard Rails Posts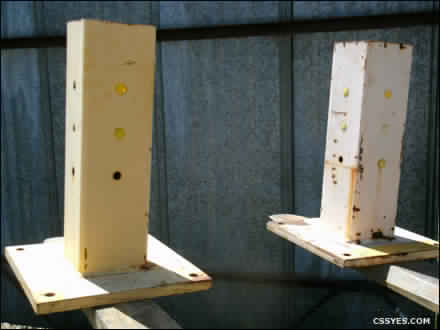 Industrial grade steel posts anchored on the ground will secure a guard rail firmly in place.
---
18 Person Box Lockers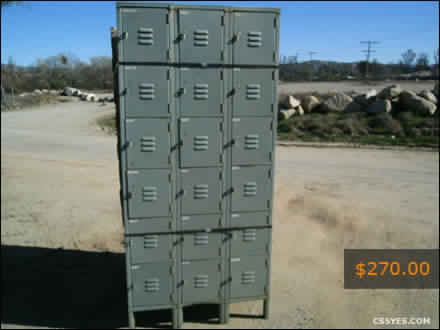 Industrial lockers come fully assembled and ready to use.
Choose from 18 person pre-owned box locker or used 16 person wardrobe unit. This is ideal for environment with different employees in need of dedicated storage that can be locked individually.
---
16 Person Wardrobe Box Lockers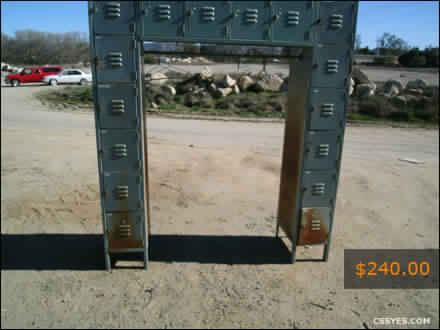 Our pre-owned wardrobe locker includes a coat rod.