Another successful warehouse relocation project completed. This particular company needed to vacate their industrial space within two weeks and we helped accomplished this task. We specialize in warehouse relocations throughout California. During this service, we analyze the new building's footprint, evaluate the type of commodity, and explore the customers operations and logistics. Additional services include engineering, desing-build, installations, permits submittals, and asset recovery. Below is a partial list of the assets available for sale from the project completed this week. All of the racking is in excellent condition.
Mecalux Pallet Rack Specs:
Teardrop uprights: 42″ deep x 24′ high, w/seizmic footplates
Teardrop step beams: 96″ long x 3-1/4″ high
Teardrop step beams: 96″ long x 3-3/4″ high
Teardrop step beams: 144″ long x 5″ high
Galvanized Pallet Support Bars: 42″ long with waterfall
---
Mecalux Teardrop Style Pallet Rack System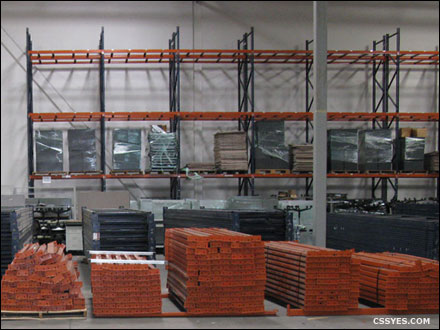 Beam levels can be rearranged to create desired clearance for your pallet loads. The levels adjust on 2″ increments.
This selective pallet rack system uses 42″ pallet supports to help stabilize wood pallets in place. It also increases the strength of the entire row of racks.
---
42″ x 24′ Pallet Rack Uprights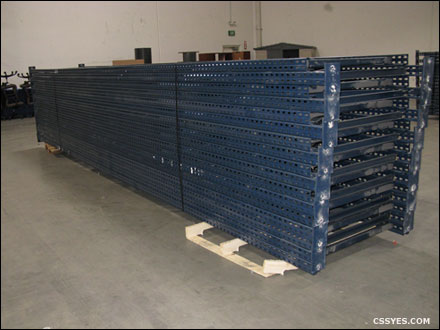 This selective pallet rack system meets building code regulations.
---
Teardrop frames comes with 5″ x 8″ seismic foot plates. They are designed to be anchored on the slab with special anchors. This procedure follows guidelines required under building code regulations, RMI standards, and OSHA safety guidelines.
---
California Seizmic Zone 4 Pallet Racks, Earthquake Safe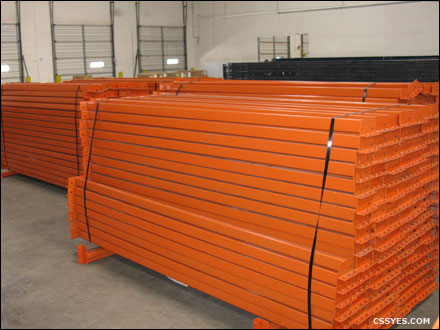 Bundle of step beams available for delivery immediately.
The frames and beams available for this relocation project are structurally sound with little sign of usage. All the materials are in "like" brand new condition.
---
Galvanized Pallet Support Bars 42″ Long with Waterfall Edges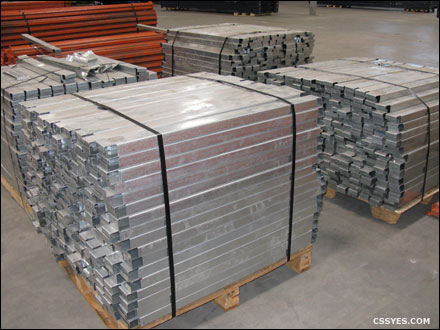 Pallet support bars will help secure wood pallets in place.
We currently have in stock over 2,000 galvanized pallet support bars that will fit Mecalux step beams. The opening between the waterfall and the channel support measurement is 1-5/8″, which is the correct fit for Mecalux step beams that have a top step width of 1-1/2″. The pallet support beams do not fit Interlake, and most other teardrop style beams.
---
Pallet Support Bars for Mecalux Step Beams