Sliding steel shelving for sale with minimum combination 10 shelf /60 containers. Compare with New units sold at $600.00 each. We have several units in gray and few others with mixed colors. This system has adjustable slots to place the shelf on the desired height. This material sells fast, no delivery included, price is for will call in Mission Valley 92120. Steel containers, metal dividers and label holders also available to improve the use of this system, see sizes below.
Sliding Shelf Specs:
10 Shelf/60 Containers Unit Steel Shelving $240.00/ea.
As-is condition
37.5″ wide x 12.5″ deep x 84″ high
Extra Shelf 37.5″ wide x 12″ deep $6.00/ea.
Extra Steel Container 5.5″ wide x 11″ long $3.00/ea.
Extra Metal Dividers $1.00/ea.
Extra Label Holders $1.00/ea.
---
Several Sections for Sale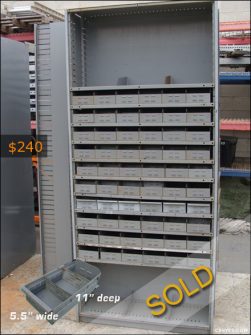 Adjust shelf levels as desired. 60 steel containers for storage and extra metal dividers available.
---
Steel Container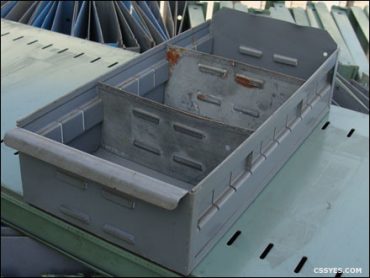 5.5″ wide x 11″ long steel container.