At Conveyor & Storage Solutions, we specialize in providing storage systems for warehouses located in seismic zone 4 areas, which is most of California. Our engineered systems meet local City and State building codes, as well as the 2008 RMI code (Rack Manufacturers Institute).
RMI is accredited by the American National Standards Institute (ANSI) as developer for U.S. industrial storage racks and safety standards. Here is a list of pallet rack materials that we just acquired:
Pallet Rack Specs:
Mecalux teardrop uprights, 42″ deep x 144″ high
14 gage columns, 3-3/16″ wide x 2-11/16″ deep
Seismic footplates, 5″ x 7″ x 3/8″
Mecalux teardrop step beams, 96″ long x 4″ high
Wire mesh decks, 42″ deep x 46″ wide
---
Seismic Footplates Anchored to Warehouse Floor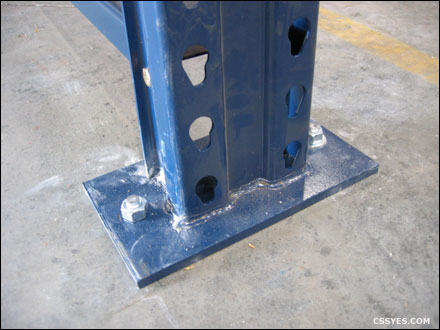 Proper pallet rack installation to meet safety and code requirements
We carry pallet rack frames with seismic footplates and beams with 6″ to 12″ frame connections. We only use wedge anchors that have an ICC Report. We have many other sizes available listed on our used material handling equipment page.
---
Pre-Owned Mecalux and Open Grid Wire Decks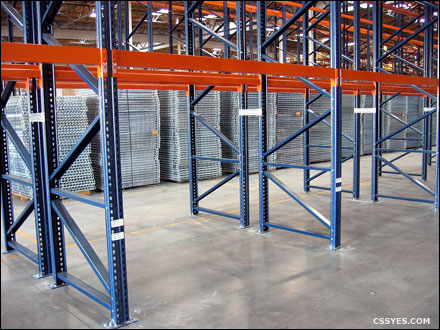 Proper pallet rack installation to meet safety and code requirements
We carry a full line of warehouse racking including all the pallet rack accessories. To ensure safe storage, we offer metal pallet support bars and used wiremesh decks. Both require minimal installation and provide an extra level of security at a cheap price. To protect your pallet rack uprights from forklift damage, we carry column protectors and end-of-row guards.
---
Seismic Safety Inspection for Earthquake Awareness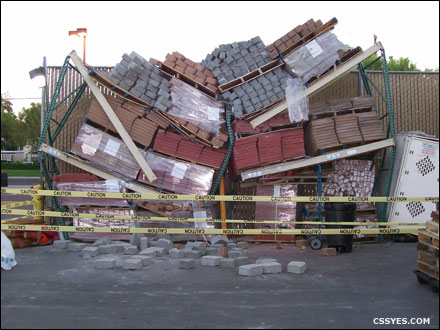 Non-engineered rack system with overload.
Some of the causes of rack failure are rack overload, non-engineered storage system design, equipment accidents, and earthquakes. Make sure you choose a material handling contractor that has experience and knowledge regarding seismic zoning. We offer a warehouse seismic safety inspection to make sure your racks are safe and up to code.
---
Design Build Pallet Rack and Warehouse Storage Systems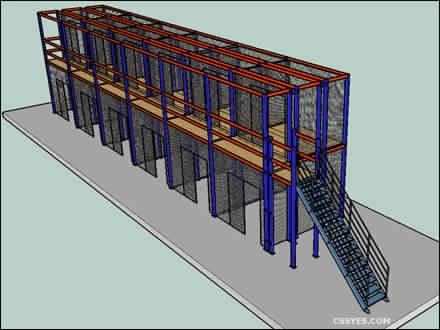 Creative design for specialized storage needs.
Our company assists with the complete design-build process including engineering, space planning, installation, and building permits.