Description
Western Pacific Storage Solutions RiveTier Z Beam
Many companies are struggling to reach their full potential. A lack of efficiency and productivity has left many business owners questioning their processes. RiveTier has been designing shelving and storage solutions for over four decades. With our customizable products, companies have found a solution to overhauling their efficiency and output.
RiveTier Boltless Shelving Brochure
Customers can enjoy the high-capacity of the long-span systems with the ease and accessibility of the low-profile designs. Z-Beam Shelves offer companies the best solution for maximizing space in the backroom or front office. Here are some reasons to consider using this model:
Reaches up to six-feet in width
Each shelf can hold 2,400 pounds
Reduction in beam profile increase clearance
RiveTier has been developing innovative solutions since the initial release of RiveTier 1 in 1968. With a unique design of metal and lumber, RiveTier was able to combine functional and practical factors into one product. This state-of-the-art shelving system was designed with sturdy parts and slotted angles for maximum efficiency. The RiveTier 1 was ready to face the long-standing competition. Here are some important reasons to choose RiveTier:
A constant avant-garde in the marketplace
No cross bracing to obstruct access to shelves
No external support required as the system is freestanding
Can be assembled into four different beam styles
Ergonomic T-posts offer a practical solution when adder or starter systems need to be added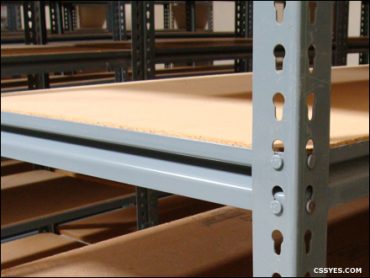 Easy Starting Process
Everything needed for a quick and easy assembly is organized in a compact package.
RiveTier systems are designed with boltless connections for fast assembly without the need to complicated or specialized tools. Only a rubber mallet is required for the assembly process.
After a few minutes of assembly, the RiveTier shelving system will be ready for use.
T-Post's Effect on Installation Time
The engineers at RiveTier have designed these shelving and storage systems for an easy and quick assembly process. The T-post plays an integral role in accomplishing this goal. Most competitors require consumers to assemble independent posts with confusing tie plates. RiveTier has significantly reduced the stress and time normally wasted on the assembly process. The T-post design is faster to install and is interchangeable with our additional products.
Calculating Vertical Clear Open
The profile of the shelf beam will affect the clear opening between shelf levels.