Description
Records Storage High Density
Archive storage and records storage high density systems are built with high capacity storage racks. These racks can obtain much more dense storage than boltless widespan shelving (used in medium density records storage and also in open shelf file storage systems).
High Density Storage System
The following criteria needs to be addressed when designing high density records box storage systems:
Storage volume and warehouse layout: ceiling height, dock doors, exit doors, office area, and column locations? Temporary or permanent location?
What are your needs today and tomorrow? What type of storage expansion phasing will meet your needs?
Type of storage: record archive boxes, open files, medical files, architectural plans, digital media
Storage & retrieval: file management software, shipping & receiving operations, number of employees, order picking carts & ladders, scanners, RFID?
Vertical Reciprocating Conveyors (VRC): material elevators, conveyors, stairs to access upper levels, and other equipment involved in storage systems.
Sprinkler system: overhead and in-rack sprinklers?
Energy efficient lighting: T5, T8, light timers, automatic sensory lighting?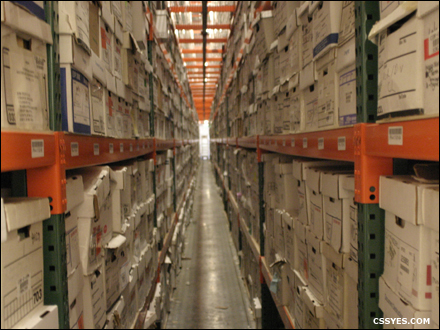 multi level catwalk records storage system.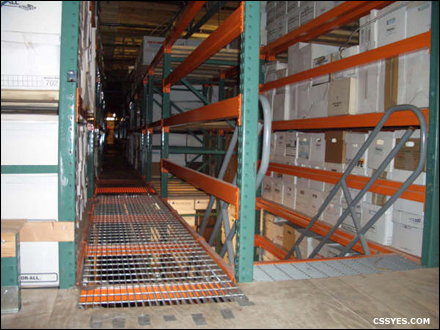 Access stairs and catwalk bar grating.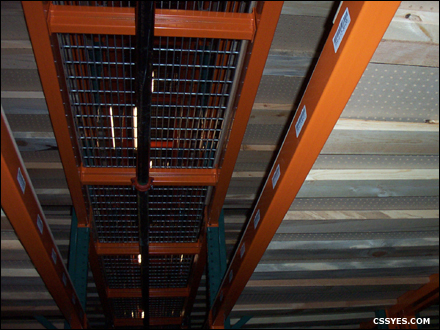 In-rack sprinklers and solid decking.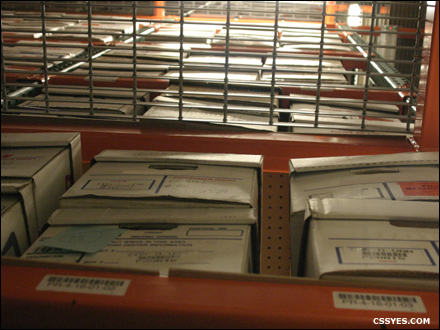 Bar grating for catwalk floors.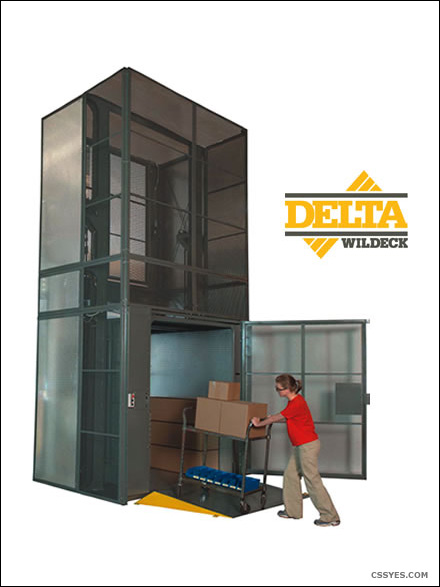 Tough lifting motor sized for continuous duty.
Wildeck's Delta™ mechanical modular material lift is a safe and reliable way to transfer your material from level to level. The Delta VRC offers the lower cost of a hydraulic unit while incorporating the many benefits of a mechanical lift. The Delta ships in large sections and installs in less than a day; which minimizes costs and disruption to your operation. Wildeck's unique and innovative Delta design provides a VRC that is not only durable and reliable, but extremely easy to maintain. When you look at a Delta VRC, you will notice Wildeck's quality and many high value features that are designed in from the start.
Features:
Lift Capacity: 2,200 lb
Lifting Speed: 15 fpm (standard) – other speeds available
Platform Size: 5 ft. wide x 6 ft. long x 7 ft. high
Loading / Unloading: "Z" loading – standard "C" loading available
Gates: Single Swing Gate (standard) – other gates available
Overload/VRC jam protection
Safe, integrated, full-height perimeter guarding
Fully-enclosed carriage with galvanized tread plate floor and walls
Expanded metal roof
Modular construction for fast and easy 'bolt-together' installation
Fabricated by certified welders
Optional galvanized 'winged' loading ramp or pit mounted
Electric chain drive lift system for long service life
Dual roller chains for redundant safety
UL-508A labeled control panel
Fully pre-wired for 'plug-and-play' electrical connection
Momentary contact 'Up' and 'Down' push-button controls
Broken/slack chain protection provided by a dual-cam safety system