Description
Mezzanines Shelf Supported
The mezzanines shelf supported applications are ideal when you can combine storage space at the floor level and working area above. We successfully design, install and permit shelving systems like this one throughout California.
Shelving Mezzanine Top Working Area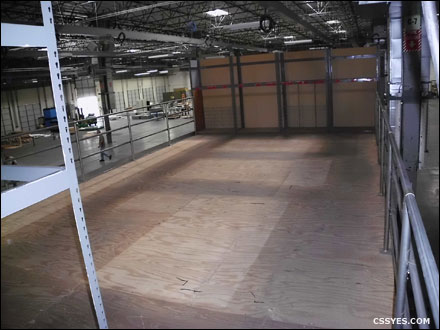 Based on the needs of your warehouse operations, we will recommend the best floor surface for your application.
Floor surfaces are designed accordingly with the specifications of the project: Bar grating, high density wood, sturdier floor on B-Deck, diamond plate or metal decking, moisture resistant, concrete, and heat treated decks.
Shelving Mezzanine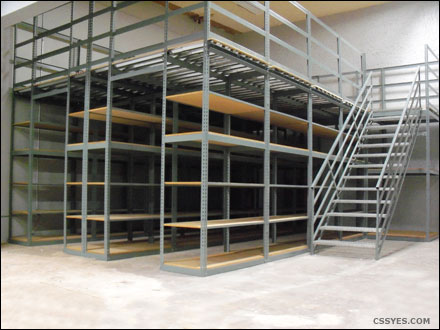 Shelf mezzanine will be designed to meet your specifications.
Open floor plan designed for working area. B-deck and playwood are typical on shelving supported mezzanines. We have pre-owned boltless shelving on our inventory that can be used on this type of design. Our shelving supported mezzanine is an excellent option for commercial grade storage in smaller warehouse spaces in California.
Rapid Rack Stairway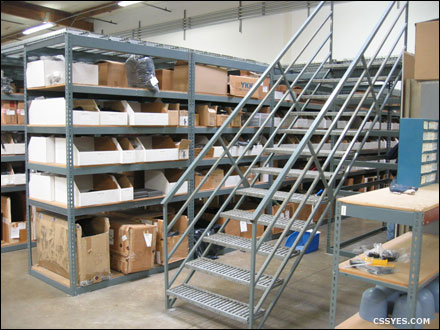 We can custom design a catwalk style stairway for your shelving supported mezzanine application.
Fixed stairs shall be provided for access from one structure level to another where operations necessitate regular travel between levels, and for access to operating platforms at any equipment which requires attention routinely during operations. We have years of experience designing and installing catwalk stairs in California.