Description
Material Lift Electrical Controls
Wildeck's AutoSenz® M-Series is available for both mechanical and hydraulically-operated VRCs*. The AutoSenz® M-Series – is now an integral part of the material lift electrical controls providing standard auto-ranging overload/VRC jam protection that will minimize damage to material and equipment should items become jammed during the lifting operation.
Existing mechanical and hydraulic VRCs can also be upgraded with an AutoSenz® M-Series Retrofit Module adding a new level of safety and security on installed units, and peace-of-mind for VRC operators and facility managers. The AutoSenz® M-Series Retrofit Module is available pre-wired making it easy to install by a qualified VRC technician on an existing mechanical or hydraulic lift.
Features:
Continuous VRC monitoring
Senses overload conditions
Protects VRC components
Increases VRC uptime
Extends VRC life
Retrofit Module Available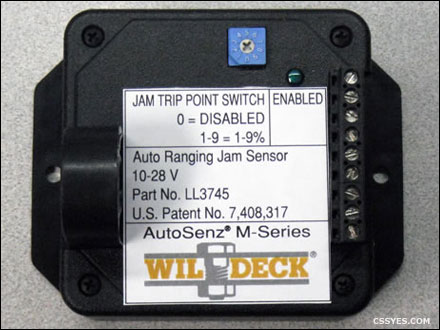 Wildeck's full-featured AutoSenz® D-Series VRC overload detection system (U.S. Patent No. 7,408,317) is available as an option for mechanically-operated VRCs.
It provides a PLC with digital user interface, easy-to-use push button controls, complete system diagnostics capability, and a new VRC service/maintenance reminder – features that are not available from any other VRC manufacturer.
Continuous VRC monitoring
Senses overload conditions
Protects VRC components
Signals operator to take action
Service / maintenance reminder
Records VRC events/history
Extensive system diagnostics
Increases VRC uptime
Extends VRC life