Description
Light Duty Cantilever Rack Extra Arms (Jaken)
Our Jaken line of light duty extra arms are in stock, and ready to ship. All units are 79″ tall. Arms lengths come in 12″, 18″ and 24″.
Arm Length:

12″ Long Angled
18″ Long Angled
24″ Long Angled

Arm Capacity:
Jaken Distribution Centers – Warehouse Locations
We distribute Jaken Products from two distribution centers:
La Palma, CA 90623
Aurora, IL 60504
Single Sided Cantilever Rack System
2 Level System Includes 2 Columns/Bases, 4 Arms, and Brace Beams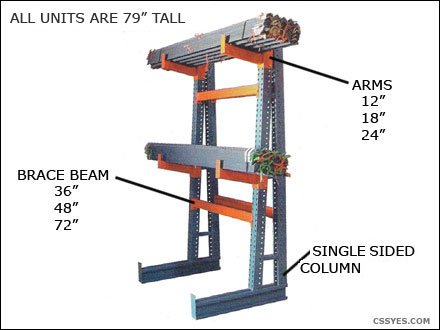 Ideal for storing long products such as bars, pipes and rods.
All units are 79″ tall
Arms are adjustable in 1-1/2″ increments
Choose 12″, 18″, or 24″ arms (length)
Choose 36″, 48″, or 72″ brace beams (width)
Double Sided Cantilever Rack System
2 Level System Includes 2 Columns/Bases, 8 Arms, and Brace Beams