Description
Jaken Light Duty Starter Unit
The Jaken Light Duty Starter Unit Cantilever Rack angled arms and welded end-stops provide secure/safe storage of long and/or irregular shaped merchandise. These units are available as either single or double sided.
Width:
Height:
Arm:

12″ Long Angle
18″ Long Angle
24″ Long Angle

Configuration:

Double Sided
Single Sided
Jaken Distribution Centers – Warehouse Locations
We distribute Jaken Products from two distribution centers:
La Palma, CA 90623
Aurora, IL 60504
Single Sided Cantilever Rack System
This Light Duty Starter Unit Cantilever Racking Unit second Level System Includes 2 Columns/Bases, 4 Arms, and Brace Beams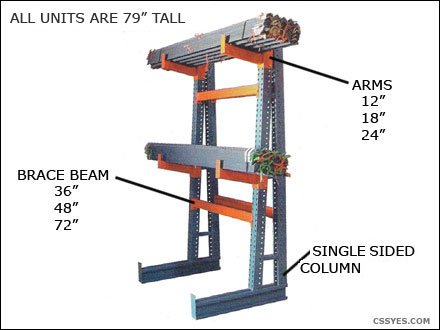 Ideal for storing long products such as bars, pipes and rods.
All units are 79″ tall
Arms are adjustable in 1-1/2″ increments
Choose 12″, 18″, or 24″ arms (length)
Choose 36″, 48″, or 72″ brace beams (width)
Double Sided Cantilever Rack System
2 Level System Includes 2 Columns/Bases, 8 Arms, and Brace Beams