Description
Hydraulic Vertical Lifts
Vertical Reciprocating Conveyors (VRCs) also known as Material Lifts or Freight Lifts are a cost effective, safe and easy means of transporting your materials from one elevation to another. Whether you're a distribution center with integrated mezzanines, a manufacturing facility with multiple levels, or an archive records storage facility with a balcony, hydraulic vertical lifts are the solution for your vertical lifting needs.
The Benefits of a Hydraulic Lift:
Overload/VRC jam protection
Lift capacities: 1,000 to 4,000 lb
Lifting Height: Up to 19 ft.
Lifting Speed: 20 fpm
UL-508A labeled control panel
'Gate Closed' indicator light on control panel
Momentary contact 'Up' and 'Down'
push-button controls
All control wiring stepped down to 24 volts for safety
Fabricated by AWS D1.1 Certified Welders
Hydraulic VRC Pump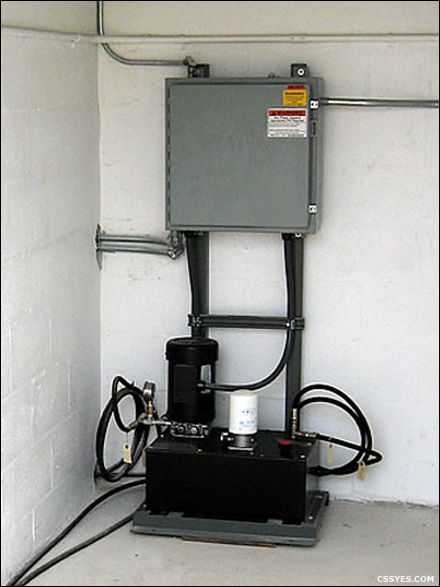 Hydraulic pump motor sized for continuous duty.
The Benefits of a Mechanical Lift:
Constructed for "bolt-together" installation. Field welding not required
All bracing material provided
Structural grade fasteners and floor anchors provided
Industrial strength carriage platform handles heavy point loads
Roller bearings with easy-access grease fittings for all wheels and sleeves
Dual hydraulic rams and lifting cables provide redundant safety
Hydraulic rams pull, rather than push, for added strength and longer life
Hydraulic operating pressure maintained below 1,600 psi for extended component life
Oversized oil reservoir provided to reduce possibility of oil overheating
Automatic shut-off valves for broken hydraulic hoses
Manual lowering valve provided for emergency use
High-flex lifting cable provides extended service life
Broken cable free-fall safety cams rated for 7,000 lb
AutoSenz M Series Overload Detection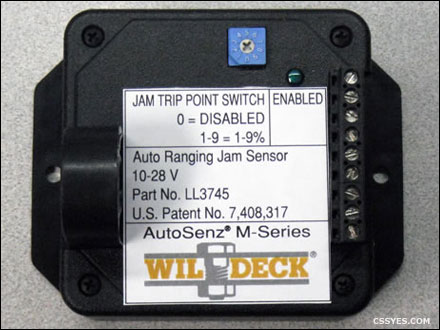 AutoSenz® M-Series technology.
Wildeck's AutoSenz® M-Series is available for both mechanical and hydraulically-operated VRCs*. The AutoSenz® M-Series – is now an integral part of the VRC's control system providing standard auto-ranging overload/VRC jam protection that will minimize damage to material and equipment should items become jammed during the lifting operation.
Existing mechanical and hydraulic vertical lifts can also be upgraded with an AutoSenz® M-Series Retrofit Module adding a new level of safety and security on installed units, and peace-of-mind for VRC operators and facility managers. The AutoSenz® M-Series Retrofit Module is available pre-wired making it easy to install by a qualified VRC technician on an existing mechanical or hydraulic lift.
Features:
Continuous VRC monitoring
Senses overload conditions
Protects VRC components
Increases VRC uptime
Extends VRC life
Retrofit Module Available
V-Lift Wildeck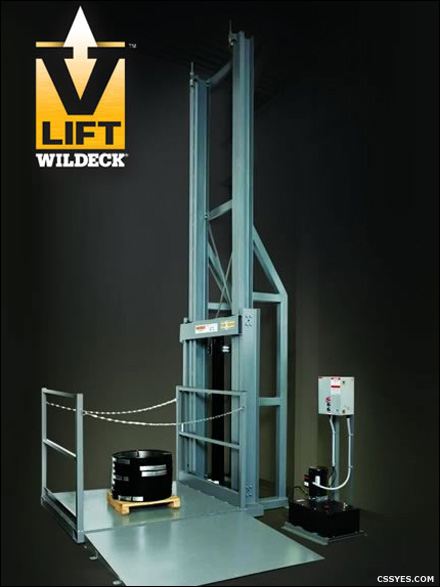 Guarding and gates required by building code have been removed for illustrative purposes.
In today's 'green' building designs, floor space is at a premium and moving up, not out, is definitely preferred. Luckily, facility designers, contractors, and architects need look no further than the V-Lift™ from Wildeck – the industry leader in space optimization.
Features:
Fixed or freestanding "C," "Z" or 90 degree loading/unloading
Heavy-duty construction
LIFTING CAPACITY: Up to 3,000 lb
LIFTING SPEED: Standard travel speed is 17 fpm.
TOP LIFTING HEIGHT: 14'
LEVELS: Access lower level and (1) stop above ground
Clear height requirement
7 ft. (84″) Clearance above upper level for VRC travel up to 10 ft.
9 ft. (108″) Clearance for travel heights between 10 ft. and 14 ft.
Lift Structure
Guide columns are 6″ wide-flange structural steel.
Optional freestanding structural framing available.
Hydraulic Lifting System
A robust single cylinder hydraulic system with dual 2.5″ pistons safely lifts and lowers the carriage. Innovative cylinder design prevents twisting during operation and eliminates moving hoses, cables, chains, and bearings. Pressure compensated control valve regulates the flow of hydraulic fluid and ensures a smooth, steady, and safe lowering speed.
Color
Standard color is Wildeck Gray. Optional colors available. Purchased components are painted per vendor standards. Prior to painting, Wildeck fabricated materials are prepared using a 100% phosphate-free paint pre-treatment process incorporating a non-toxic biodegradable alkaline powder that virtually eliminates the introduction of VOCs into the atmosphere.
Safety Features:
Mechanical stops ensure positive leveling with the upper deck. Redundant overload protection prevents carriage from lifting if loaded to more than 120% of rated capacity. Decent safety is controlled via velocity fuses. Safety signage must be clearly displayed including: "NO RIDERS."
Safety Guarding
The ANSI/ASME B20.1 code requires safety gates and 8 ft. high guarding on all accessible sides of the lift. V-Lift™ gates have electrical and mechanical interlocks and can only be opened during VRC loading or unloading. Interlocks prevent the VRC from moving unless the gates are fully closed and they cannot be opened if the carriage is not at the designated level.
Electrical
208/230/460 VAC, 3-phase (Single-phase option available). Control voltage is 24 VAC. Remote mounted NEMA 12 control panel and hydraulic pump motor are pre-wired prior to shipment. Optional "quick-connect" wiring for VRC push-buttons and gate interlocks is available.
Call Stations
The main control panel is rated NEMA 12. NEMA 4 call/send stations included for each level have self-maintaining push-buttons and a mushroom-head E-Stop.
Drawing & Manuals
Application-specific drawings provided for approval after receipt of Purchase Order and prior to manufacture. Owner's Manual includes installation, operation, and maintenance instructions. DESIGNED & MANUFACTURED to meet ANSI/ASME B20.1 "Safety Standard for Conveyors." Lift is for material transfer only. RIDERS ARE NOT PERMITTED.
Shipment
Consult factory for shipment options. V-Lift™ sub-assemblies typically ship on a flat-bed truck for side off-loading at site.